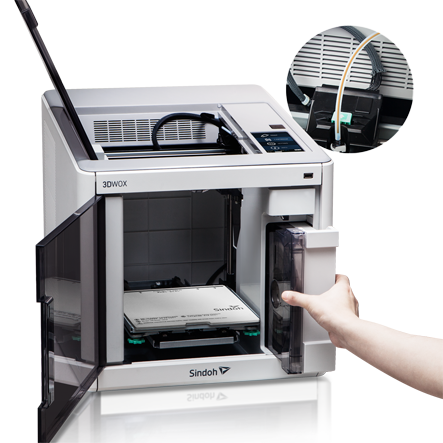 Bend it. Peel it.
The Most Reliable Flexible Bed Ever
Removing an object is not a task anymore with 3DWOX
DP201's patented flexible bed. It is a one seamless experience from the
start to the point where it ends up in your hands.
If you know how to peel off a banana, you will know how to
peel off an object from the bed.


Print. Bend. Peel. Piece of Cake.
Scraper-Free
Firm Placement with Magnets
Soft Material for Safety
Optimized for PLA Printing
Fully Automated Loading
At Sindoh, we believe 3D Printing should be easy. On
many 3D Printers today,
the process of changing filament is a difficult procedure
which involves cutting, retrieving, and placing into small openings, all
manually performed by the user. This makes the 3D Printing a difficult
experience, so with 3DWOX, we keep it simple. Just insert the cartridge
and you're done.

Remote Monitoring
3D Printing of intricate and large objects can be time
consuming. At Sindoh, we believe in making the 3D Printing experience
easy so we have integrated a camera and LED lighting into 3DWOX for
remote monitoring of the printing process day or night.
Simply install the 3DWOX mobile app on your phone or tablet
to watch the print progress from the convenience of your living room.

Improvement in Bed Leveling
The bed leveling process has been simplified even
further in 3DWOX DP201. The new Click Knob makes bed leveling on your
DP201 more simple than DP200.
Just turn the knob based on the number of clicks that the
display shows. With 'Clicks', bed leveling has never been easier.

Compatible with SOLIDWORKS

Apps for Kids - Dream it. Print it.
SOLIDWORKS Apps for Kids inspires kids to turn their wildest creations into reality.
With Print It and 3DWOX, kids can print anything they can imagine from toys to school projects and more!

SOLIDWORKS 2016 or Above


For SOLIDWORKS CAD users, we are providing an add-in
feature which the users can simply install and use to print directly
through the 3DWOX without creating compatible g-code files.
You can also monitor the printing process through the web
and check the remaining amount of the filament. With Sindoh's integrated
software, your 3D Printing becomes a whole lot easier.
3DWOX DP201 Spec.

Print Technology FFF



Print head Single Nozzle



Nozzle Diameter 0.4mm



Max Build size (WxDxH) 210 x 200 x 189mm (8"x8"x7.4")



Material PLA



Connectivity USB Flash Drive, Ethernet, WiFi, USB Cable



Layer Thickness 0.05 ~ 0.4 mm



Filament Diameter 1.75mm



Size (W×D×H) 421 × 433 × 443mm (16.5"x17"x17.4")



User Interface 5" color touch screen



Leveling Auto Leveling Measurement + Manual Adjustment



Auto-loading Cartridge Automatically loads filament to nozzle



LED Lamp For Internal Lighting



Monitoring Camera Check print status remotely with laptop or smartphone via WiFi connection



Operating System Window 7 or above, Mac OSX 10.10 above


Note: Standard VGA driver on operating
system, or a graphics card doesn't support OpenGL 2.0, may cause unknown
error in 3DWOX Desktop.