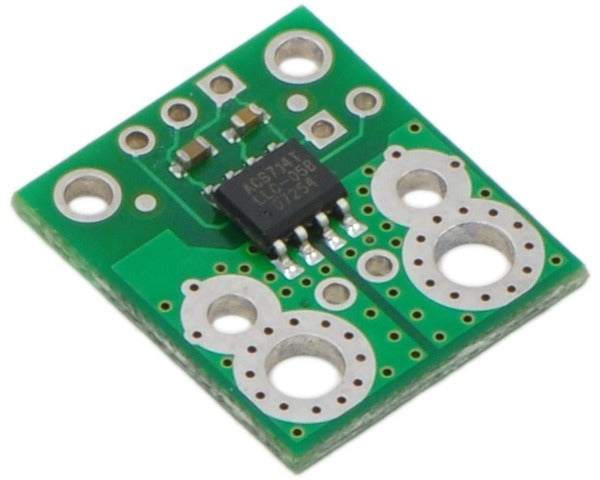 ACS714 Current Sensor Carrier -5A to +5A
This current sensor is a carrier board or breakout board for Allegro's ACS714LLCTR-05B-T Hall effect-based linear current sensor; we therefore recommend careful reading of the ACS714 datasheetbefore using this product. The sensor operates at 5 V and has an output sensitivity of 185 mV/A. The board ships fully populated with its SMD components, including the ACS714, as shown in the product picture. The following list details some of the sensor's key features:

The pads are labeled on the bottom silkscreen, as shown in the picture to the right. The silkscreen also shows the direction that is interpreted as positive current flow via the
+i
arrow.

Like almost all our carrier boards, this sensor ships assembled with all of its required surface mount components, as shown in the main product picture.
This version is marked with a
blue X
. We also sell a
±30A bidirectional version
of this board; you can distinguish these versions by reading the text on the IC or by looking at the color of the X on the bottom silkscreen.
Warning:
This product is intended for use below 30 V. Working with higher voltages can be extremely dangerous and should only be attempted by qualified individuals with appropriate equipment and protective gear.